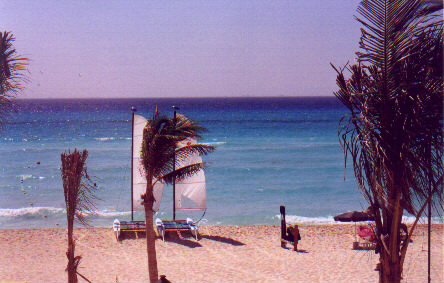 -Page 2-
We did absolutely nothing but swim in the beautiful ocean and watch the parasailers, sailboats and ferries go by. We had dinner in the restaurant by the beach. For dinner we had some wonderful red wine and I had snapper with garlic. We had a great smoked salmon appetizer to start, and chocolate mousse for dessert with some terrific cognac. We talked about old radio shows that we all remembered and loved. Who else remembers, "Plunk your magic twanger, Froggie!"?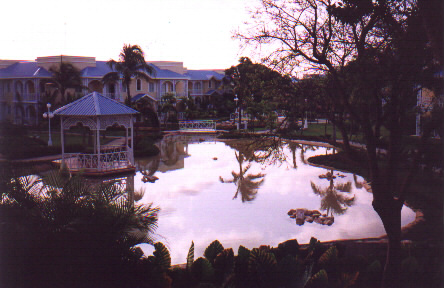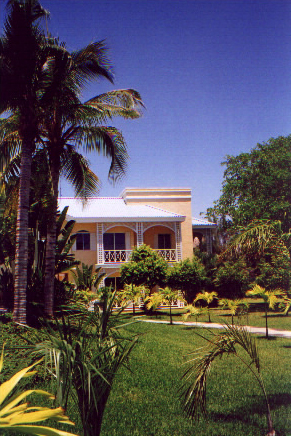 Later I swam in the relaxing pool surrounded by flowers and watched the stars and hung out in the jacuzzi! The next day we continued to do NOTHING! It was wonderfully relaxing and the weather impeccable. Such a breeze, such sunshine, such clear water. We had breakfast in the room (everything was included even drinks!) and then spent some time in our gorgeous relaxing pool and down at the beach.
---
Our relaxing pool was a favorite of the birds who during the heat of the day came to take baths in the low area of the pool (just a few inched deep). They flap and drink and dunk their heads to stay cool. We saw some gorgeous birds including Baltimore Orioles! I wrote postcards...then JayDee and I got massages, facials and pedicures at the incredible resort spa. Then we took a cab into the little town and bought some Tequila for friends back home. We looked into all the little shops very touristy and very colorful!

We would have drinks each night outside the Piano Bar in the main building - such luxury. The band even played our song, As Time Goes By. You can hear the band in the afternoon from the villa and little pool. So nice! Dinner was next door at the Allegro Hotel where they had a Mexican Fiesta with musicians in native outfits! The lamb was terrific!