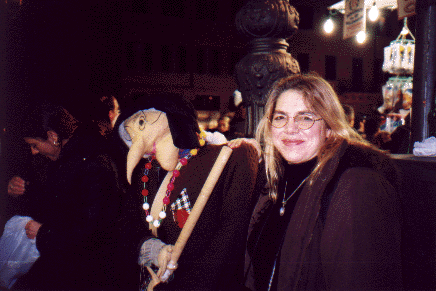 Day One:
Befana (Twelfth Night)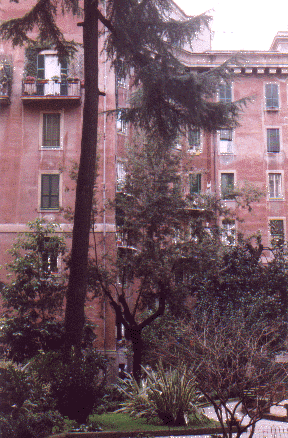 We stayed in a nice apartment north of the Vatican in a quiet section of the city. Everyone (95%) of Romans live in these high ceilinged apartments with large courtyard and big balconied windows. We had three bedrooms for the four of us: my dad, Rolf, his wife, Joanne, her son, Andy and myself.
You could see the dome of St. Peter from the Piazza down the street. My balcony looked over the street. It was a back street with an automotive shop. Lots of comings and goings. The main bedroom looked over the green courtyard. Though it is January the weather is temperate and only one day did it rain.
January 6th, Twelfth Night or Epiphany, and we went to the Piazza Navona (formerly a stadium in ancient times) to the Festival of Befana (the witch who give sweets to the children). It was a very busy market! We fought through the crowds down to the Spanish Steps and the Trevi Fountain which are packed with Romans. We throw coins to assure our return to this dark, heavy city...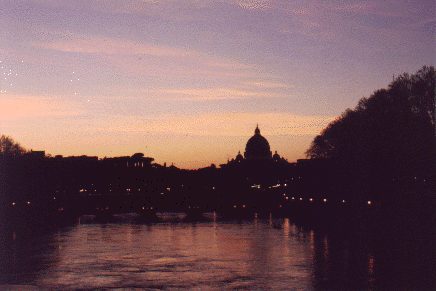 St. Peters at Sunset
Rome reminded me greatly of the other European cities, Paris, Munich (and even Moscow) that I have visited. We saw St. Peterís from the bridge as we walked downtown at sunset. The Tiber is a muddy river. We got passes for the train and bus - but not even once was it checked all week. Trusting people these Romans! As we got a snack at a café we saw a street brawl, two men and a blond (isnít it always??) How passionate, how Italian!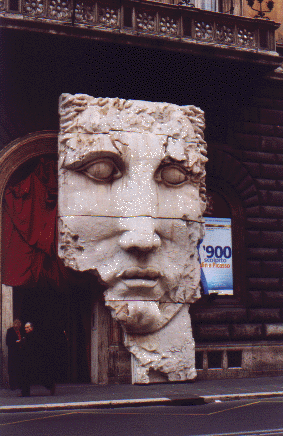 Museo de Corso
We had sandwiches and great Cappucino (all the coffee was excellent here) while we waited for the restaurants to open at 7:30pm. The shops are open mornings till 1pm and then reopen around 4pm and stay open till about 8pm. Our restaurant was the Taverna Trevi with high ceilings and white tablecloths.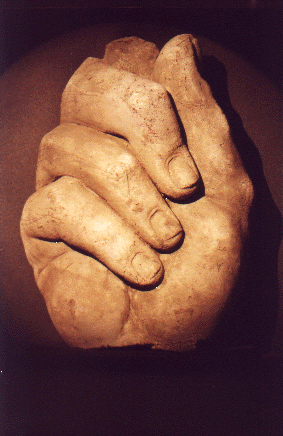 Giant Hand at the Museo de Corso
I ate the Caprese salad (mozzarella and tomatoes) and porcini and truffle pasta. Many courses is the standard fare here. Joanne had the mushroom pizza (very thin crust) and Dad the spaghetti carbonara (egg, cheese and bacon) and Andy the Veal Saltimbocca. Wow, it was the most tender veal I ever tasted. The pasta was very al dente. People were eating pizza with dandelion greens!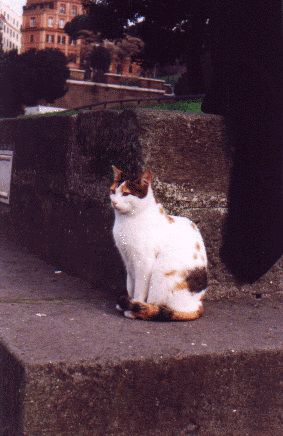 Bought scarves and ties from street sellers. Saw the first of many Egyptian Obelisks. Bought some bread and cheese for breakfast. Tomorrow we go to the Colosseum. Found one of many internet cafes. I hoped to find a leather jacket as my winter coat was too warm. Woke up at 3 am and finished reading the first of the amazing Phillip Pullman fantasy trilogy, "The Golden Compass". At 5:30 am the birds began to sing.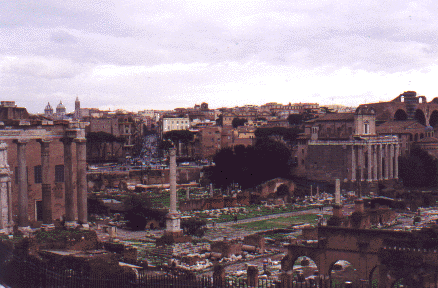 Forum