Italy Adventure
Gubbio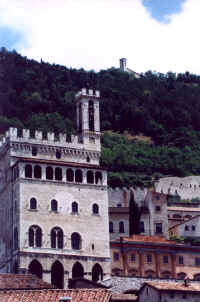 The next day was our road trip to Gubbio one of the hill towns in Tuscany. I drove with Michael, Marianne and Francesca, mostly because Michael drives fast, fast, fast. I got to sit in the front and feel death defying speed.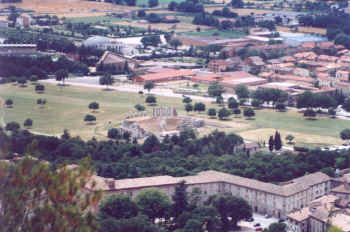 We visited a lovely fresh market, enjoyed the gardens, saw a very old church and walked way up the hill inspecting several ceramics (hand-painted) along the way. I bought a clay Beware Cats! sign (in Italian of course). We had an amazing lunch way up on the hill. I had gnocchi stuffed with truffle and a veal stuffed with spinach and cheeses. And we drank sparkling Italian white wine that is better than champagne.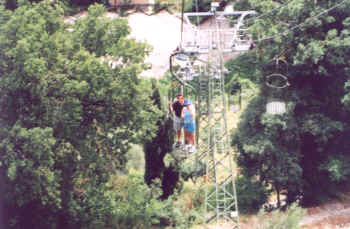 Rolf, Joanne and Marianne decided to shop while Michael, Francesca and I braved the 1-2 person open standing tram up to the top of the mountain. It was scarey and breath-taking! We had cappuccino at the top and Francesca had ice cream.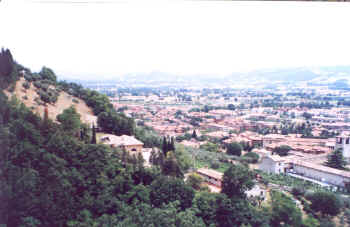 Upon our return we went inside a wonderful old church museum filled with gorgeous huge paintings and roman artifacts. They still wanted to shop and so we ventured back in the car to make the infamous supermarket run in one of the small towns on the way home.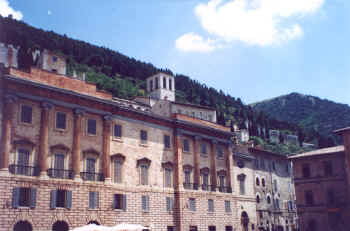 Michael had a very funny experience with one of the space age public toilets before we left. They take a half a Euro and the orgasmatron-like facility opens like one of the rooms on the Starship Enterprise. You are dispensed a certain amount of toilet paper, but I'm afraid Michael didn't have enough. We heard swearing coming from inside and were momentarily afraid he didn't know how to get out. After using the facility the entire inside of the room is hosed down twice. It really needed it this time and we laughed about for some time. Michael and I had a blast shopping for supplies in the supermarket. We were certainly stocked up now!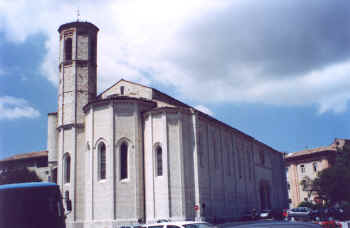 We made it home for swimming and French Martinis by the pool. Dinner was another Michael extravaganza with shish-kabobs of sausages, lamb and chicken, tomato and mozzarella salad, eggplant marinara, and pasta primaverde.