My Trip to Germany
Day Four:
Neuschwanstein Castle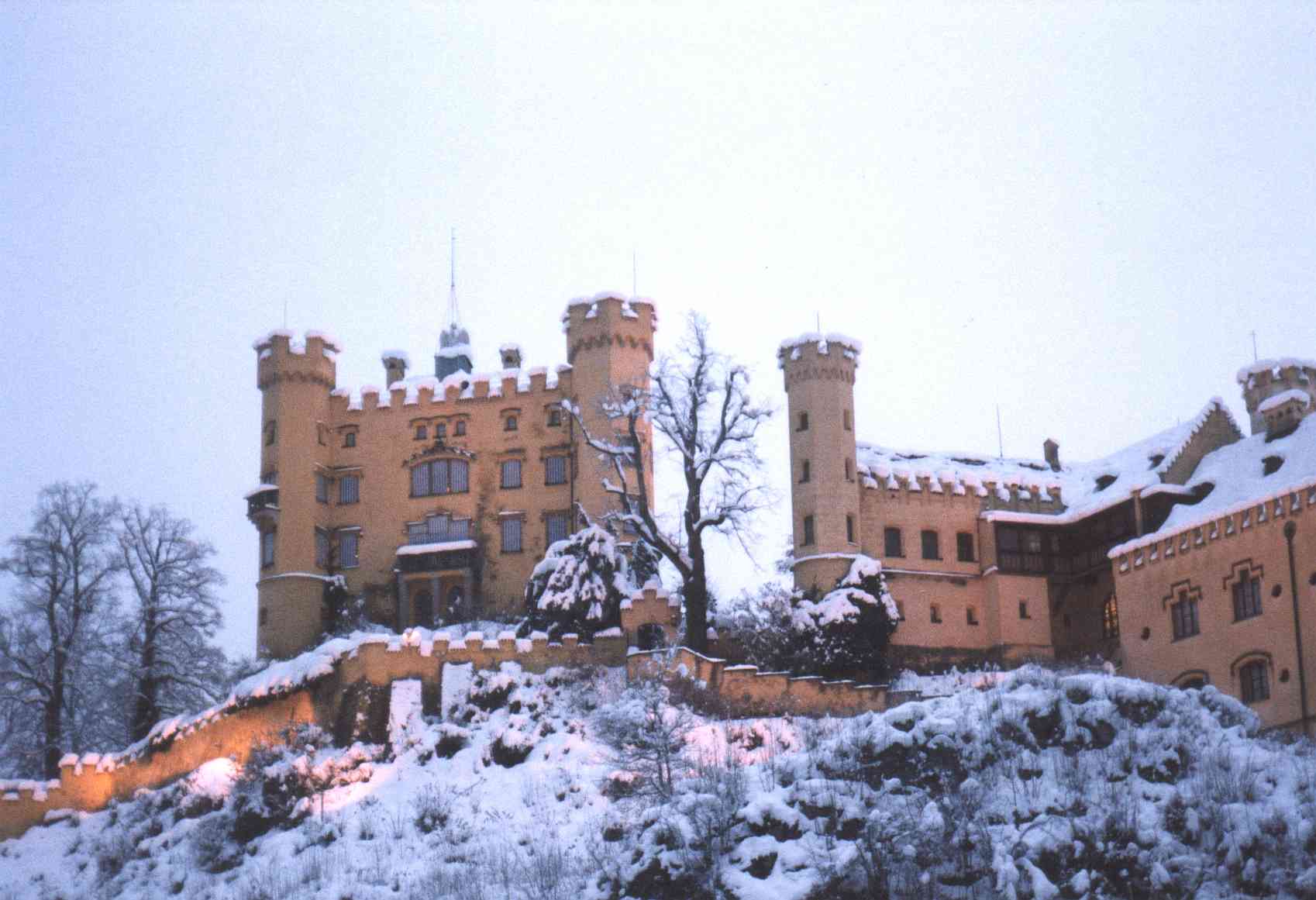 Already I say I must stop eating <grin>! Jet lag is rough but we all made it up to go to the castle by noon. We chose to drive through the mountains and Austria to the castle. This was a most splendid if slightly treacherous drive! What a view!!! It was just amazing, the Alps, the lakes, the snow, the mist, the forest. Really gorgeous. It was overcast and by the time we found the castle it was shrouded in mist and very mystical! The big yellow castle at the foot of the mountain was built by his father, King Maximillian and was very impressive but next to the fairy tale castle Neuschwanstein it paled.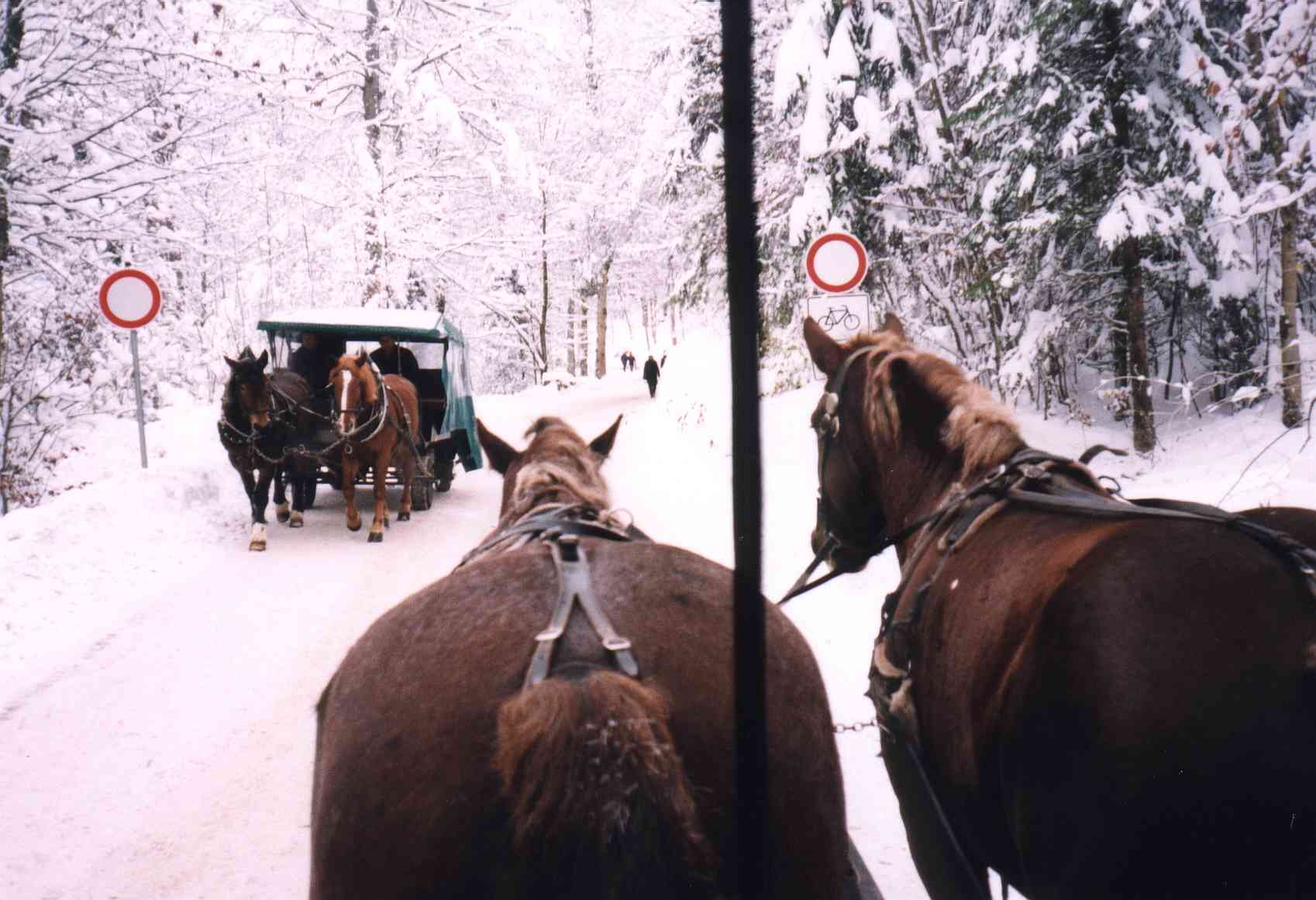 We took the horse and carriage ride to the top and I sat up front. The horses were steaming and trotting up the mountain to stay warm. We stopped to eat potato pancakes (what else?) and I just had a dunkel weisbier. Then I felt my heritage swelling up and the photographer in me (courtesy of my grandfather Otto) made me run off and take pictures of the castle. Covered in snow and mist it was a sight to see. It stands out beautifully over the town and is quite a hike even from where the carriage lets you off. Pointed tall medieval spires contrasted with the blocky gothic towers of his father's castle down below.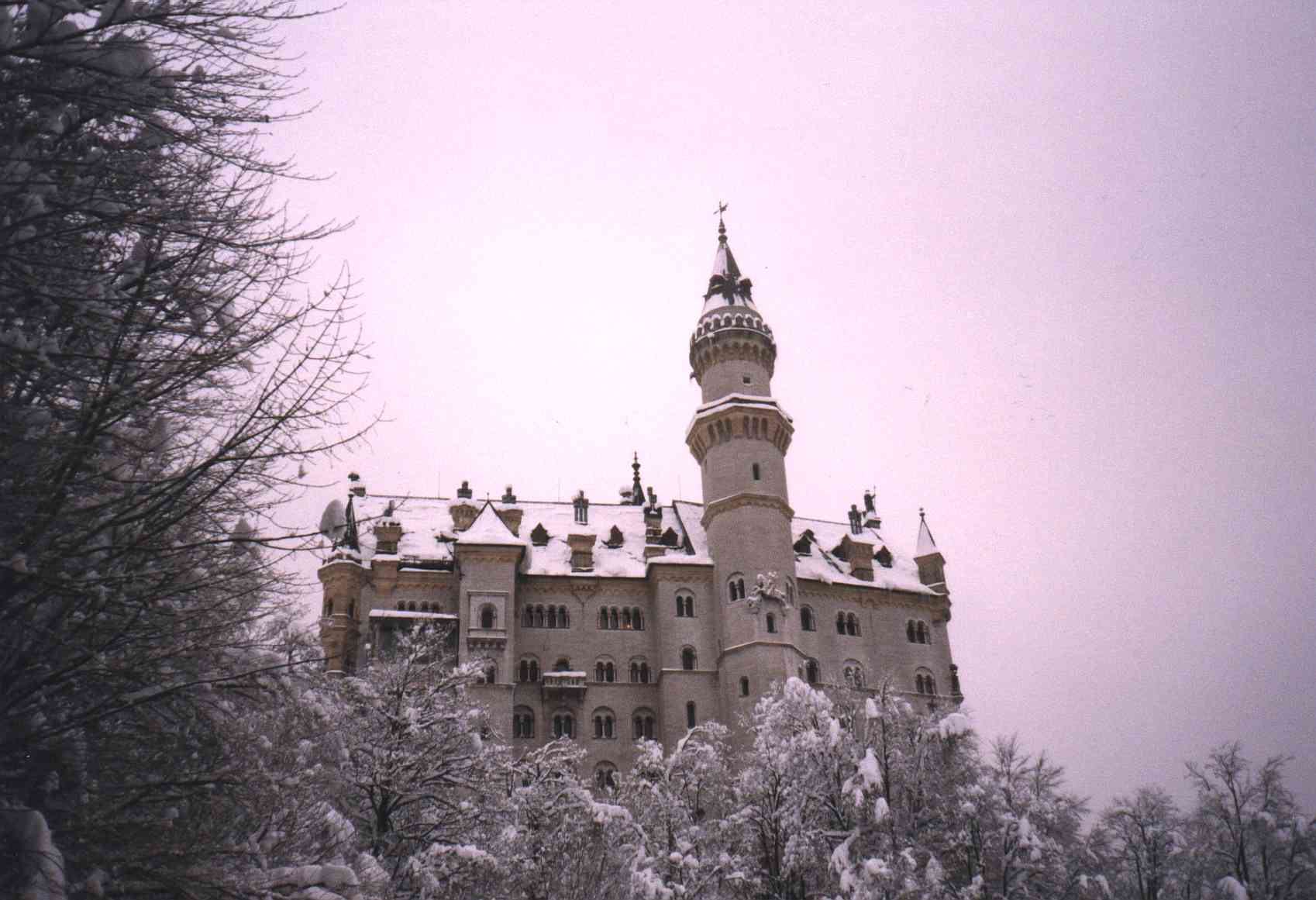 I bought a ticket and went into the grounds of this mysterious castle. I felt like the years were slipping away. Not many tourists on this cold winter day, no waiting, no crowds. It was very peaceful. What a splendid magic place. It was left unfinished but on the tour all you saw were the finished rooms - of which there were many and very elaborate. Ludwig was enamoured of Wagner and painted scenes from his operas on all the walls. In his bedroom alone the wood carvings and paintings took 4 ½ years to complete. He built a huge music hall with a stage and a painted forest backdrop so he could have entire operas played before him.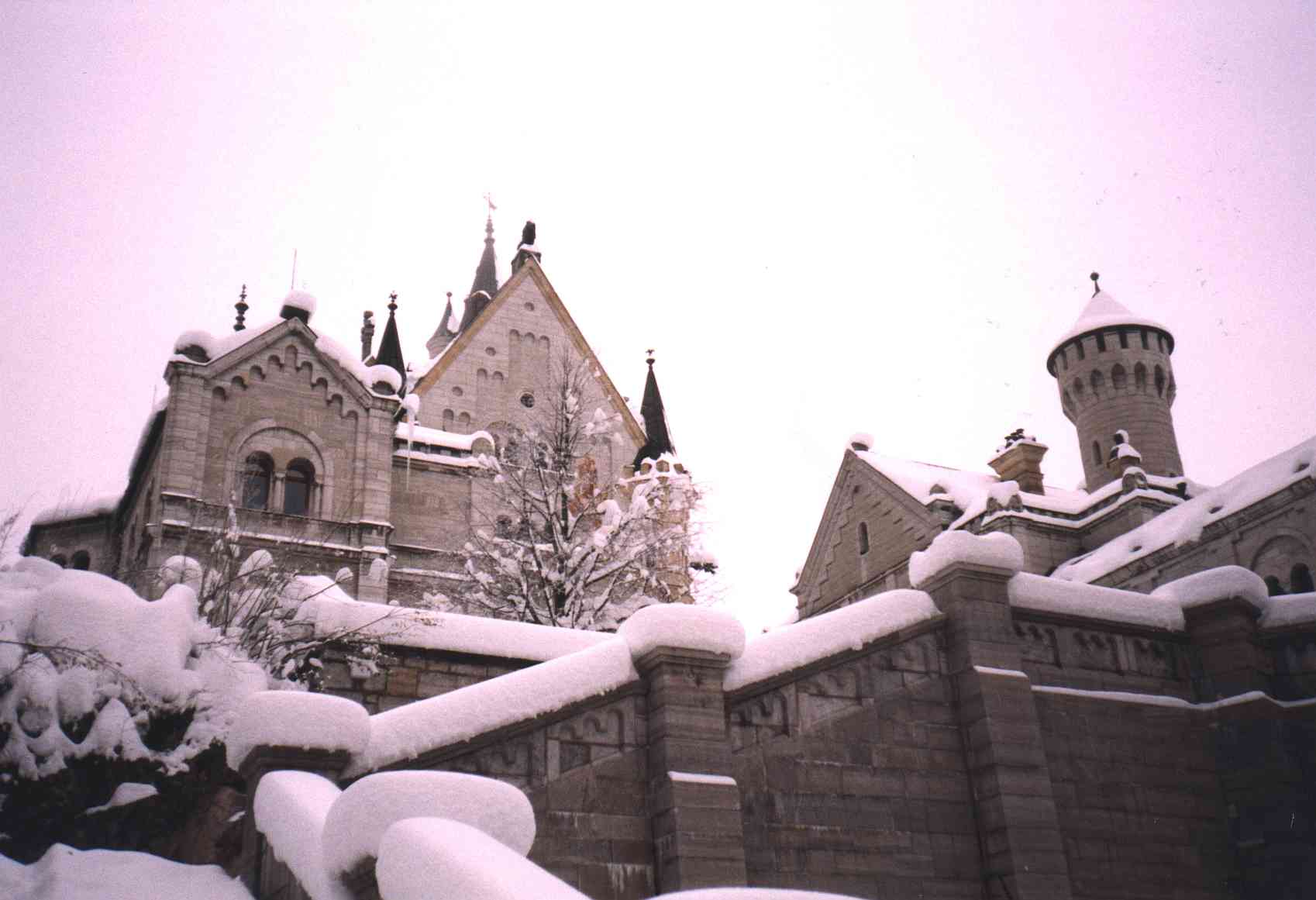 The castle was all done in the medieval style, carved wood and statues everywhere, big paintings that looked like tapestries, angels, dragons, animals, mosaic inlaid tile floors, beautiful wooden floors. Tall skinny windows, arched ceilings, spiral staircases. Every inch of wall space was covered with paintings from fairy tales and folk stories and operas. The painting of King Arthur and the Holy Grail was magnificent. The chandeliers were really magnificent, large gilded ringlets full of candles and studded with jewels.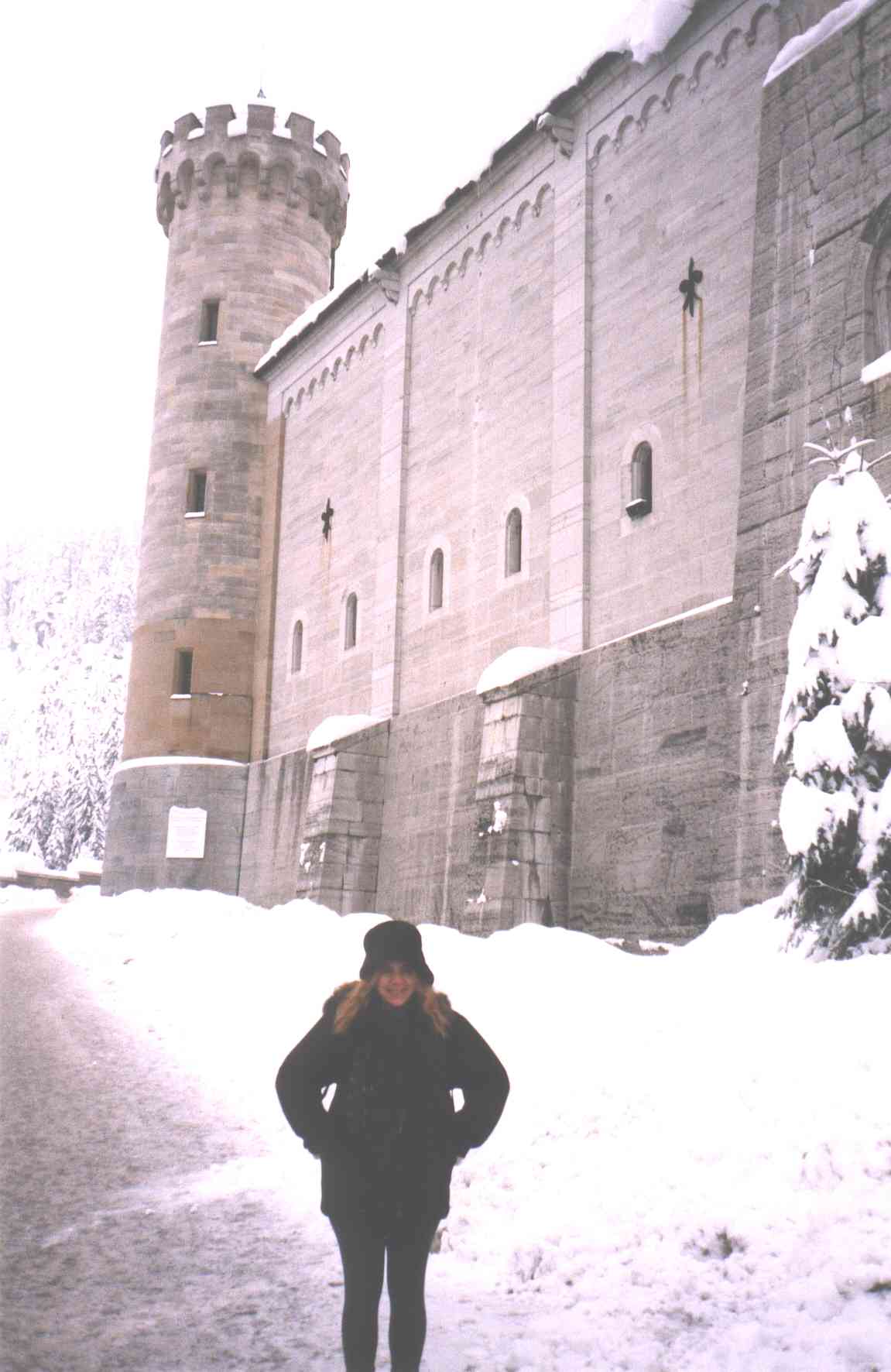 We walked down the mountain and found the highway towards home, it was getting dark. Dinner again in the hotel and potato pancakes with goat cheese all around. Lots of Gluhwein too. I had some venison goulasch and a bread dumpling and brandy. Wonderful (didn't I say I had to stop eating?).